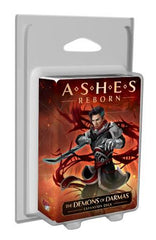 Ashes Reborn Demons of Darmas (2021)
Product is currently unavailable. Please email us @ info[at]woodforsheep.ca with Subject: ORDER Ashes Reborn Demons of Darmas (2021) and we will notify you once this item becomes available. Request Deposit required.
Ages: 14+
Players: 2-4
Playing Time: 15-30 minutes
Designer: Isaac Vega
Publisher: Plaid Hat Games
Requires: Ashes Reborn
None of your enemy's minions are safe from Harold Westraven and his Hunter's Mark! Spring into action with this full, ready-to-play deck, or use the cards you find here to build your own deck centered on the Phoenixborn of your choice. Find new combinations of cards and unlock new types of decks. With each Ashes expansion deck, you can supplement your collection with new spell and unit cards in order to play out all-new battles!