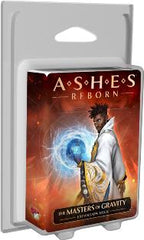 Ashes Reborn Masters of Gravity (2021)
Product is currently unavailable. Please email us @ info[at]woodforsheep.ca with Subject: ORDER Ashes Reborn Masters of Gravity (2021) and we will notify you once this item becomes available. Request Deposit required.
Ages: 14+
Players: 2-4
Playing Time: 15-30 minutes
Designer: Isaac Vega
Publisher: Plaid Hat Games
Requires: Ashes Reborn
Harness the power of gravity itself!
This deck introduces a new Phoenixborn, Echo Greystorm, to the Ashes universe, giving you the freedom to explore new deck-building strategies that fit his unique abilities. Take control of your opponent's every move by bending the very laws of physics to your will. Additionally, Echo is accompanied by a full deck of spell, ally, and other cards that can be incorporated into any Ashes deck, allowing you to supplement your collection and discover powerful new card combinations. With each card, you'll find new ways to customize your Ashes experience and fight alongside your chosen Phoenixborn!