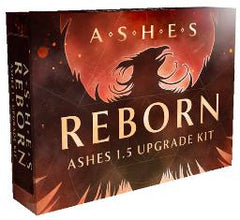 Ashes Reborn Upgrade Kit
Product is currently unavailable. Please email us @ info[at]woodforsheep.ca with Subject: ORDER Ashes Reborn Upgrade Kit and we will notify you once this item becomes available. Request Deposit required.
Ages: 14+
Players: 2-4
Playing Time: 15-30 minutes
Designer: Isaac Vega
Publisher: Plaid Hat Games
Requires: Ashes Rise of the Phoenixborn
A very cost effective way for any player of the original to upgrade their entire collection to be ready to play with the new rules and products.
Includes revised cards that needed to be rebalanced, simplified, or otherwise changed to fit in with the new ruleset: Make the game more accessible and intuitive without losing any of what makes it fun and rewarding to play.