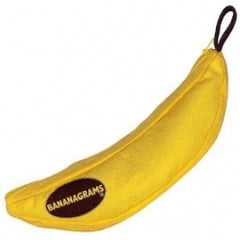 Bananagrams
Product is currently unavailable. Please email us @ info[at]woodforsheep.ca with Subject: ORDER Bananagrams and we will notify you once this item becomes available. Request Deposit required.
Ages: 7+
Players: 1-8
Playing Time: 15 minutes
Designer: Rena Nathanson, Abe Nathanson
Publisher: Bananagrams
Players race against each other to build crossword grids and use all their letter tiles. There's no turn-taking to be found here—it all happens at once and it's a race to the finish. No matter how old you are and how many anagram games you've played, this game is sure to drive you absolutely bananas ... in the best possible way!
Reaction | Vocabulary | Word