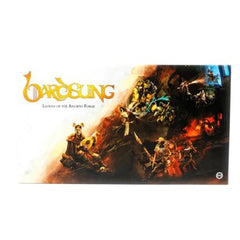 Bardsung
Ages: 14+
Players: 1-4
Playing Time: 60-90 minutes
Designer: Mat Hart, Sherwin Matthews,
Fraser McFetridge
Publisher: Steamforged Games Ltd.
Do you dream of hearing bards sing your name in taverns across the land? Well, now's your chance!
Become a songworthy hero in this cooperative, choice-driven dungeon explorer board game for 1-5 players.
A horde of hobgoblins have been plaguing nearby villages, and it's up to you to sort them out. Rumour has it these pesky raiders are taking refuge in the mysterious Ancient Forge. Should be simple enough to venture below and dispatch them with a stout heart and a steady hand, right? Let's just say you might find a little more than you bargained for…
Adventure | Combat | Cooperative | Deck Construction | Exploration | Fantasy | Solo Mode | Variable Player Abilities