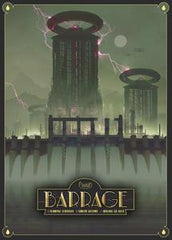 Barrage
Product is currently unavailable. Please email us @ info[at]woodforsheep.ca with Subject: ORDER Barrage and we will notify you once this item becomes available. Request Deposit required.
Ages: 14+
Players: 1-4
Playing Time: 60-120 minutes
Designer: Tommaso Battista, Simone Luciani
Publisher: Cranio Creations
In the dystopic 1930s, the industrial revolution pushed the exploitation of fossil-based resources to the limit, and now the only thing powerful enough to quench the thirst for power of the massive machines and of the unstoppable engineering progress is the unlimited hydroelectric energy provided by the rivers.
A strategic, resource management game in which players compete to build their majestic dams, raise them to increase their storing capacity, and deliver all the potential power through pressure tunnels connected to the energy turbines of their powerhouses.
Draft | Network Building | Resource Management | Role/Phase Selection | Variable Player Abilities