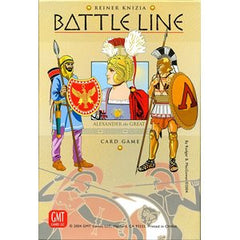 Battle Line
Ages: 12+
Players: 2
Playing Time: 30 minutes
Designer: Reiner Knizia
Publisher: GMT Games
A two-player card game built around the theme of warfare during the age of Alexander the Great.
To win, you must create powerful formations along your side of the line of battle that are superior to those of your enemy. Victory goes to the player who wins 5 of the 9 battle flags (an envelopment) or three adjacent flags (a breakthrough).
How will you muster your battle line? Will you use your elephants to trample a hole in the enemy front, or send Alexander to the front to win a critical flag? Maybe you'll dispatch the Companion cavalry to lead or reinforce a crucial point in the line, or perhaps you'll rely on your spies to determine the enemy's strengths and weaknesses before committing your best forces. You'll always have plenty of choices. With every card play, you'll determine the strength and direction of your attack while plotting to fend off your enemy's advances.
You and your opponent lead the combined arms of the greatest units of the era. Will you, like Alexander, reign supreme? Play and find out.