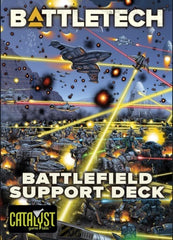 Battletech Battlefield Support Deck
Product is currently unavailable. Please email us @ info[at]woodforsheep.ca with Subject: ORDER Battletech Battlefield Support Deck and we will notify you once this item becomes available. Request Deposit required.
Ages: 8+
Players: 2-5
Play Time: 60 minutes
Designer: Ray Arrastia, Herbert A. Beas II,
Randall N. Bills, Bryan Nystul,
Diane Piron-Gelman, Michael Stackpole,
Chris Trossen, Patrick Wynne
Publisher: Catalyst Games Lab
Requires: Battletech Game of Armored Combat
Add new dimensions of warfare to your games, which consolidates the popular Battlefield Support rules from BattleMech manual onto easy-to-use cards. 55 cards which include the rules needed by one side in tabletop play. Includes artillery, aerospace strikes, minefields, and other non-BattleMech tools of war. Out-strategize your opponents with a multitude of options at your fingertips!
Battletech | Combat | Expansion | Robots | Sci-fi | Spin-off