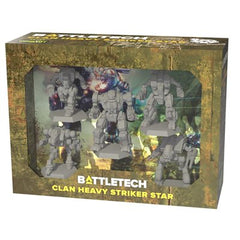 Battletech Clan Heavy Striker Star
Product is currently unavailable. Please email us @ info[at]woodforsheep.ca with Subject: ORDER Battletech Clan Heavy Striker Star and we will notify you once this item becomes available. Request Deposit required.
Ages: 8+
Players: 2-5
Play Time: 60 minutes
Designer: Ray Arrastia, Herbert A. Beas II,
Randall N. Bills, Bryan Nystul,
Diane Piron-Gelman, Michael Stackpole,
Chris Trossen, Patrick Wynne
Publisher: Catalyst Games Lab
Requires: Battletech Game of Armored Combat
Few can stand against the withering fury of a full-on Clan assault, a near-perfect blend of speed and brutality. Pinpoint accuracy meets the crash of heavy metal as the Warriors of Kerensky press relentlessly toward their objective.
Includes the Gargoyle, Hellbringer, Mad Dog, Ice Ferret, and Viper--no assembly required--along with five MechWarrior pilot cards and five Alpha Strike cards.
Battletech | Combat | Expansion | Robots | Sci-fi | Spin-off