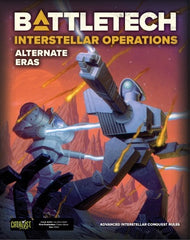 Battletech Interstellar Operations Alternate Eras
Product is currently unavailable. Please email us @ info[at]woodforsheep.ca with Subject: ORDER Battletech Interstellar Operations Alternate Eras and we will notify you once this item becomes available. Request Deposit required.
Ages: 8+
Players: 2-5
Play Time: 60 minutes
Designer: Ray Arrastia, Herbert A. Beas II,
Randall N. Bills, Bryan Nystul,
Diane Piron-Gelman, Michael Stackpole,
Chris Trossen, Patrick Wynne
Publisher: Catalyst Games Lab
Requires: Battletech Game of Armored Combat
Are you ready to time travel?
Introduces a plethora of new rules for playing across thousands of years of BattleTech history. Get ready to do battle with weapons and equipment that dates back to the beginning of BattleTech Time.
Battletech | Combat | Expansion | Robots | Sci-fi | Spin-off