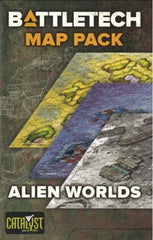 Battletech Map Pack Alien Worlds
Product is currently unavailable. Please email us @ info[at]woodforsheep.ca with Subject: ORDER Battletech Map Pack Alien Worlds and we will notify you once this item becomes available. Request Deposit required.
Ages: 8+
Players: 2-5
Play Time: 60 minutes
Designer: Ray Arrastia, Herbert A. Beas II,
Randall N. Bills, Bryan Nystul,
Diane Piron-Gelman, Michael Stackpole,
Chris Trossen, Patrick Wynne
Publisher: Catalyst Games Lab
Requires: Battletech Game of Armored Combat
Contains 4 two-sided paper map sheets: Caustic Valley #1, Caustic Valley #2, Crystalline Canyon #1, Crystalline Canyon #2, Fungal Forest #1, Fungal Forest #2, Lunar Station #1, Lunar Station #2, Fractured Glaciers #1, Fractured Glaciers #2, Volcanic Plateau #1, Volcanic Plateau #2.
Battletech | Combat | Expansion | Robots | Sci-fi | Spin-off