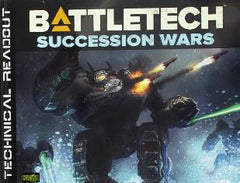 Battletech Technical Readout Succession Wars
Product is currently unavailable. Please email us @ info[at]woodforsheep.ca with Subject: ORDER Battletech Technical Readout Succession Wars and we will notify you once this item becomes available. Request Deposit required.
Ages: 8+
Players: 2-5
Play Time: 60 minutes
Designer: Ray Arrastia, Herbert A. Beas II,
Randall N. Bills, Bryan Nystul,
Diane Piron-Gelman, Michael Stackpole,
Chris Trossen, Patrick Wynne
Publisher: Catalyst Games Lab
Requires: Battletech Game of Armored Combat
On February 5, 2439, the Mackie obliterated all opposition during its first combat trial, ushering in a new era of warfare. The BattleMech—King of the Battlefield—was born. BattleMechs reached their pinnacle during the golden age of the Star League. The fall of the Star League and the Succession Wars that raged for centuries afterward took their toll and by the Fourth Succession War, the technology employed on the battlefields was a mere shadow of what it once was. However, the discovery of the Helm Memory Core unlocked the technological potential to develop new BattleMechs and experimental technologies for the first time in centuries.
This volume features some of the most common 'Mechs from the Age of War to the Succession Wars. Each machine is illustrated in detail, and accompanied by a description of its history, capabilities, game stats, along with their most famous pilots.
Battletech | Combat | Expansion | Robots | Sci-fi | Spin-off