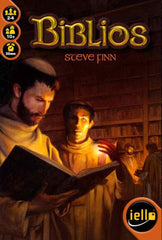 Biblios
Product is currently unavailable. Please email us @ info[at]woodforsheep.ca with Subject: ORDER Biblios and we will notify you once this item becomes available. Request Deposit required.
Ages: 10+
Players: 2-4
Playing Time: 30 minutes
Designer: Steve Finn
Publisher: Dr. Finn's Games
You are an abbot of a medieval monastery competing with other abbots to amass the greatest library of sacred books. To do so, you need to have both the workers and resources to run a well-functioning scriptorium. To acquire workers and resources, you use a limited supply of donated gold. In addition, you must be on good terms with the powerful bishop, who can help you in your quest.
Auction | Business Building | Draft | Economic | Set Collection