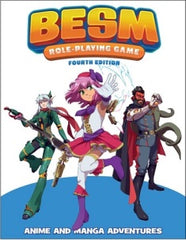 Big Eyes Small Mouth RPG (4E)
In the myriad realms of imagination, there are an infinite number of fascinating worlds to be discovered.
Contains everything you need to create your anime and manga characters and start playing. No other books are required. This gorgeous volume is a hefty 336 full-color pages with well over 100 beautiful illustrations from talented artist across the world. Features a laminated hardcover with spot UV varnish and a durable Smyth-sewn binding that allows your book to easily lay flat and stay open to any page.