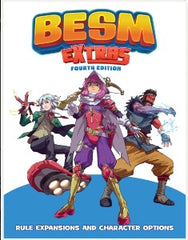 Big Eyes Small Mouth RPG (4E) Extras
Rules variations, extended game mechanics, expanded optional guidelines, creative adventuring elements, and plenty of ready-to-use examples of spells, powers, and items; another foundational pillar for the game line.
This gorgeous volume is 144 full-color pages with beautiful illustrations from talented artist across the world. Features a sturdy hardcover with spot UV lamination, a convenient bookmark ribbon, and a durable Smyth-sewn binding.