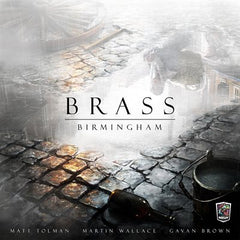 Brass Birmingham
Product is currently unavailable. Please email us @ info[at]woodforsheep.ca with Subject: ORDER Brass Birmingham and we will notify you once this item becomes available. Request Deposit required.
Ages: 14+
Players: 2-4
Playing Time: 60-120 minutes
Designer: Gavan Brown, Matt Tolman,
Martin Wallace
Publisher: Roxley Game Laboratory
An economic strategy game that tells the story of competing entrepreneurs in Birmingham during the industrial revolution, between the years of 1770-1870.
Players must develop, build, and establish industries and networks, in and effort to exploit low or high market demands.
The game is played over two halves: the canal era (years 1770-1830) and the rail era (years 1830-1870). To win the game, score the most VPs. VPs are counted at the end of each half for the canals, rails and established (flipped) industry tiles.
Economic | Industrial Age | Network Building | Resource Management