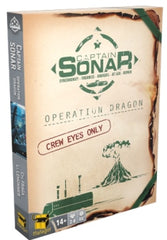 Captain Sonar Operation Dragon
Product is currently unavailable. Please email us @ info[at]woodforsheep.ca with Subject: ORDER Captain Sonar Operation Dragon and we will notify you once this item becomes available. Request Deposit required.
Ages: 12+
Players: 2-8
Playing Time: 30-60 minutes
Designer: Roberto Fraga, Yohan Lemonnier
Publisher: Matagot
There are two distinct upgrades that can only be used in real time mode.
The "Operation Dragon" campaign takes you on an exciting adventure to discover unexplored seas. You may play the scenarios in this campaign separately, or in any order you choose. But to get the full experience of this campaign we recommend playing the scenarios in order, and with the same crews. This campaign provides an experience system in the form of Expert Cards. These characters will be able to help you occasionally, throughout the game.
The second part of Upgrade 2 is the Custom Pack, a toolbox that can be used on all the maps that have been published to date. This toolbox will allow you to adapt the game to your liking: "Armada" mode, new First Mate stations, new Engineer stations... there's something for everyone.
Asmodee | Combat | Deduction | Expansion | Reaction | Team Play