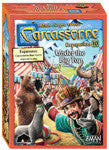 Carcassonne Under the Big Top
Product is currently unavailable. Please email us @ info[at]woodforsheep.ca with Subject: ORDER Carcassonne Under the Big Top and we will notify you once this item becomes available. Request Deposit required.
Ages: 13+
Players: 2-6
Playing Time: 30-45 minutes
Designer: Klaus-Jargen Wrede
Publisher: Z-Man Games
Requires: Carcassonne
At long last, the circus is coming!
The ringmaster has organized a night full of stunning acrobatic routines that will leave you speechless, while the most talented artists show their latest tricks. Followers can now be trained to perform human pyramids, and a circus tent will attract the people, while the ringmaster keeps things organized and visitors calm and quiet.
Carcassonne | Circus | Expansion | Modular Board | Tiles | Z-man Games