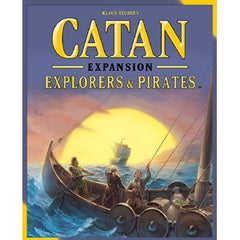 Catan Explorers & Pirates (2015)
Ages: 12+
Players: 2-6
Playing Time: 60-120 minutes
Designer: Klaus Teuber
Publisher: Catan Studio
Requires: Settlers of Catan
Take your Catan game over the horizon and discover a life of island adventure with this expansion! The five scenarios in this set require you to master not one island but three, and the sea as well! With a wealth of new pieces, rules and options, Klaus Teuber's masterpiece is more compelling than ever!
Explore and trade with ships designed to carry settlers, cargo or adventurers. Settle new lands, battle pirates, acquire spices and locate the grand banks of Catanian fish!
Features five scenarios and three missions. Some of the scenarios make use of the missions while others do not, allowing you to mix and match for maximum variety and replayability.
Catan | Expansion | Exploration | Pirates | Scenarios