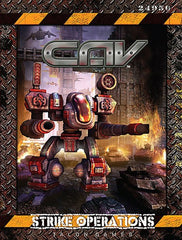 CAV: Strike Operations Hardcover Rulebook
Product is currently unavailable. Please email us @ info[at]woodforsheep.ca with Subject: ORDER CAV: Strike Operations Hardcover Rulebook and we will notify you once this item becomes available. Request Deposit required.
CAV: Strike Operations is an all-new version of the classic mecha combat game by Reaper Miniatures and developed by Talon Games.
Set in the 23rd century, CAV: Strike Operations brings the action as mighty star nations clash throughout the galaxy for ultimate control, the bulk of their fighting forces made up of the mighty CAVs and their elite pilots!
The CAV: Strike Operations rulebook is a stand-alone game system that includes all of the rules needed to play and requires no additional books. Featuring Reaper Miniatures' innovative Damage Track system, CAV: Strike Operations allows for fast play and an easy to learn rule system that both novice and experienced players alike are sure to enjoy hours of endless play!
In addition, CAV: Strike Operations provides a complete construction system that allows players to design their own custom models, as well as modifying existing designs to their own specifications.
144 pages; full color.