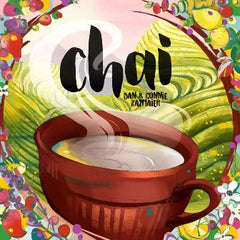 Chai
Product is currently unavailable. Please email us @ info[at]woodforsheep.ca with Subject: ORDER Chai and we will notify you once this item becomes available. Request Deposit required.
Ages: 8+
Players: 1-5
Playing Time: 20-60 minutes
Designer: Dan Kazmaier, Connie Kazmaier
Publisher: Roxley Game Laboratory
Step into the shoes of a tea merchant, combining tea flavours to make a perfect blend. Specializing in either rooibos, green, oolong, black or white tea, you will buy and collect ingredients to fulfill your customers' orders.
Draft | Economic | Food | Race | Set Collection