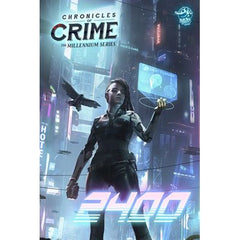 Chronicles of Crime 2400
Ages: 14+
Players: 1-4
Playing Time: 60-90 minutes
Designer: David Cicurel, Wojciech Grajkowski
Publisher: Lucky Duck Games
Welcome to Paris in the year 2400! Technology has taken a giant leap forward: androids, indistinguishable from humans, walk the streets, and having cybernetic implants has slowly become the norm. Artificial intelligence plays a major role in everyone's daily life and, for many, Cyberspace has become a world as important as the real one.
The landscape of Paris is now dominated by a gargantuan translucent Dome covering half a district. Under it, there's a private city on its own, created and ruled by BelCor. Only the rich and privileged can live there and enjoy comfortable houses, unlimited access to water, clean air and controlled temperature.
Uneven access to new technologies, and a host of other inequalities, fuel social unrest which often turns into open violence. Paris has become a popular destination for people from regions that suffered catastrophic droughts, epidemics, and wars. It isn't, however, a promised land, but a merciless world where the constant fight for influence takes place on every level, from big international corporations, through political extremist groups to ordinary street gangs.
Cooperative | Crime | Deduction | Investigation | Millenium Series | Story Telling | Variable Player Abilities