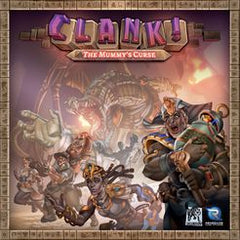 Clank Mummy's Curse
Product is currently unavailable. Please email us @ info[at]woodforsheep.ca with Subject: ORDER Clank Mummy's Curse and we will notify you once this item becomes available. Request Deposit required.
Ages: 12+
Players: 2-4
Playing Time: 30-60 minutes
Designer: Andy Clautice
Publisher: Renegade Game Studios
Requires: Clank
Untold riches await inside the pyramids of the Ancients — but they are well protected. An undying Mummy guardian spreads a vile curse to those who would rob its tomb. And, inevitably, the treasure has attracted a dragon. Can you escape the fearsome Croxobek?
Adds a wandering mummy to the pathways that players will explore as well as new artifacts to acquire in the depths of the pyramid!