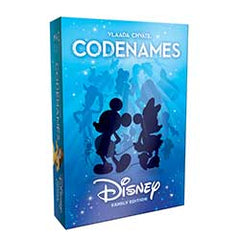 Codenames Disney
Product is currently unavailable. Please email us @ info[at]woodforsheep.ca with Subject: ORDER Codenames Disney and we will notify you once this item becomes available. Request Deposit required.
Ages: 8+
Players: 2-8
Playing Time: 30 minutes
Designer: Vlaada Chvátil
Publisher: USAopoly
Combines the hit social word game with some of Disney's most beloved properties from the past 90 years. Two Cluemasters give one-word clues to help their teammates identify the Disney characters, locations and items from a 25 card game grid. Including both pictures and words, it's family fun for Disney fans of all ages.
Big Group | Deduction | Disney | Party | Spin-off | Team Play