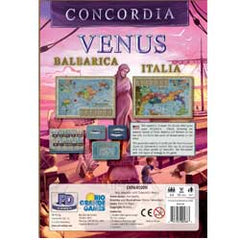 Concordia Balearica Italia
Ages: 13+
Players: 2-5
Playing Time: 90 minutes
Designer: Mac Gerdts
Publisher: Rio Grande Games
Requires: Concordia with Venus
The Balearica map has a new twist. The players start with 2 ships already at sea. There is no capital city to start from. Land colonists are built only later in the game, but can be ferried across water using ship colonists.
The Fish Market offers an extra layer of planning ahead. This variant uses the new commodity, fish, which replaces the monetary bonus in the Prefect action. Fish can be sold at the Fish Market board for goods, cash or special actions.
Notes: Italia map is also found in Concordia.