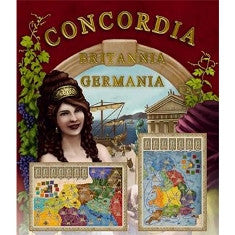 Concordia Britannia Germania
Product is currently unavailable. Please email us @ info[at]woodforsheep.ca with Subject: ORDER Concordia Britannia Germania and we will notify you once this item becomes available. Request Deposit required.
Ages: 13+
Players: 2-5
Playing Time: 90 minutes
Designer: Mac Gerdts
Publisher: Rio Grande Games
Requires: Concordia
The Britannia map offers tight play with only 23 cities in ten provinces. Players start in London and Boulogne, expanding Britannia from the south.
The Germania map features 30 cities in twelve provinces again. The additional castles, different starting positions, and sea colonists moving along rivers bring new options into play.