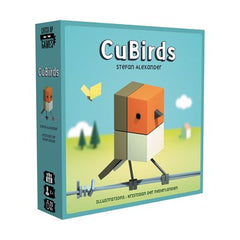 CuBirds
Product is currently unavailable. Please email us @ info[at]woodforsheep.ca with Subject: ORDER CuBirds and we will notify you once this item becomes available. Request Deposit required.
Ages: 8+
Players: 2-5
Playing Time: 20 minutes
Designer: Stefan Alexander
Publisher: Catch Up Games
Players must gather birds of the same species. On their turn, they lay all identical birds from their hand on one of the fences present on the table. These birds gather with any identical birds present on the fence, making all birds placed in-between them fly into the players' hand. With enough identical birds in hand, players can perform a flock, adding birds to their scoring area.