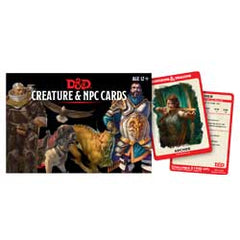 D&D RPG Creature & NPC Cards
Product is currently unavailable. Please email us @ info[at]woodforsheep.ca with Subject: ORDER D&D RPG Creature & NPC Cards and we will notify you once this item becomes available. Request Deposit required.
Contains 182 durable, laminated cards for creatures and NPCs within the Monster Manual® and Volo's Guide to Monsters™. With game statistics on one side and evocative art on the other, they are the perfect tool to help dungeon masters manage and reference their menagerie during play.