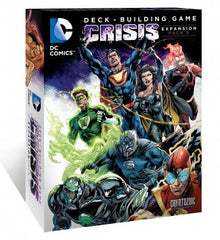 DC Comics DBG Crisis Expansion Pack 3
Product is currently unavailable. Please email us @ info[at]woodforsheep.ca with Subject: ORDER DC Comics DBG Crisis Expansion Pack 3 and we will notify you once this item becomes available. Request Deposit required.
Ages: 15+
Players: 2-5
Playing Time: 30-45 minutes
Designer:
Publisher: Cryptozoic Entertainment
Requires: DC Comics DBG base set
The DC Universe is in peril… again!
Face some of the most epic challenges, events, and destructive forces in the history of comic-dom. Find 14 "Impossible Mode" Crime Syndicate Super-Villains to battle against and Crisis versions of EIGHT oversized characters such as Lex Luthor, Sinestro, Bane and many more. But you'll also find SIX new playable oversized characters and new main deck cards for competitive players. Truly something for everyone!
This Crisis Pack features two unique modes of cooperative play! You can play in a completely cooperative mode, where players all work together to overcome challenges and foes. Or you can play in "Hidden Objective" mode, never before seen in a deck-building game! The Suicide Squad makes its debut as playable oversized characters, and as ne'er-do-wells, working together isn't exactly their strong suit. It seems someone always has their own agenda when this "team" gets together for a mission. In this mode, players are still working together, but everyone has their own definition of what a "win" really is. One player may even be secretly working against the rest of the team!
DC Comics DBG | Deck Construction | Expansion | Spin-off | Superheroes