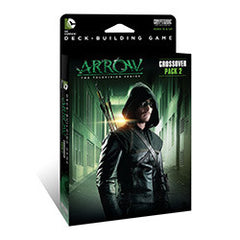 DC Comics DBG Crossover Pack Arrow
previously $9.99
Product is currently unavailable. Please email us @ info[at]woodforsheep.ca with Subject: ORDER DC Comics DBG Crossover Pack Arrow and we will notify you once this item becomes available. Request Deposit required.
Ages: 15+
Players: 2-5
Playing Time: 30-45 minutes
Designer: Richard Brady
Publisher: Cryptozoic Entertainment
Requires: DC Comics DBG base set
The DC Comics DBG Crossover series truly "crosses over" with the first ever appearance of characters from the hit DC Comics/CW TV Series ARROW! This pack has reached a new dimension, as from the show, including Arrow, Diggle, Felicity and many more.
Crossover Packs are the perfect way for players to customize their DC Comics experience to suit their own tastes and to play with their favorite characters! Grab your favorite DC set and instead of using the Super Heroes and Super-Villains from that set, use the ones from this pack instead! To further immerse you in the world of ARROW, you will find plenty of Equipment, Super Power, Hero, Villain, and Location cards from the show in the main deck.
DC Comics DBG | Deck Construction | Expansion | Spin-off | Superheroes