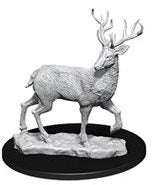 PF Deep Cuts Unpainted Minis Stag
Product is currently unavailable. Please email us @ info[at]woodforsheep.ca with Subject: ORDER PF Deep Cuts Unpainted Minis Stag and we will notify you once this item becomes available. Request Deposit required.
Come with highly-detailed figures, primed and ready to paint out-of-the-box. Fully compatible with Acrylicos Vallejo paints, these fantastic miniatures include deep cuts for easier painting. The packaging displays these miniatures in a clear and visible format, so customers know exactly what they are getting.