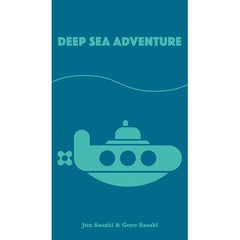 Deep Sea Adventure
Product is currently unavailable. Please email us @ info[at]woodforsheep.ca with Subject: ORDER Deep Sea Adventure and we will notify you once this item becomes available. Request Deposit required.
Ages: 8+
Players: 2-6
Playing Time: 30 minutes
Designer: Jun Sasaki, Goro Sasaki
Publisher: Oink Games
A group of poor explorers hoping to get rich quickly heads out to recover treasures from some undersea ruins. They're all rivals, but their budgets force them all to share a single rented submarine. In the rented submarine, they all have to share a single tank of air, as well. If they don't get back to the sub before they run out of air, they'll drop all their treasure. Now it's time to see who can bring home the greatest riches.