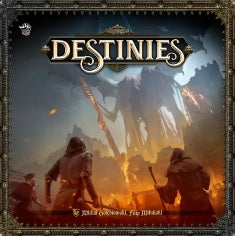 Destinies
Ages: 14+
Players: 1-3
Playing Time: 90-150 minutes
Designer: Michał Gołębiowski, Filip Miłuński
Publisher: Lucky Duck Games
The prophets speak of the End of Days, but while famine, pestilence, and war scourge the land, there will still be hope. A chosen few will be given the power to shape these ordeals and bring onto others both punishment and salvation. Their deeds will be a testament to the will and strength of mortals.
A competitive, story-driven, game of adventure and exploration, mixing an app and a board game. Each of the 5 unique scenarios depicts part of a vivid world, full of dark stories, epic characters, and mysteries to solve.
Each player takes the role of a hero on a quest to fulfill their destiny. During the game, players will discover new parts of the world presented on tiles, explore them, and visit points of interest. There they'll learn more about the story and make choices about how they want to interact with people, creatures or situations faced. The consequences of each choice are meaningful and often change the state of the world forever.
Adventure | Digital App Support | Exploration | Fantasy | Solo Mode | Tiles