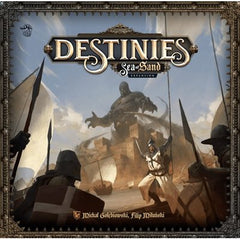 Destinies Seas of Sand
Ages: 14+
Players: 1-3
Playing Time: 90-150 minutes
Designer: Michał Gołębiowski, Filip Miłuński
Publisher: Lucky Duck Games
Requires: Destinies
Embark on an epic journey to reach the sands of Mahdia, a pirate fortress on the shores of North Africa! Is your army strong enough to break through its walls? Or will the African heat, merciless pirate raiders, and the Ifrit, a creature of Arabic legend, see your dreams of glory sinking into the sea of sand forever?
Comes with three scenarios that form a campaign that should be played in the suggested order. Scenarios are linked together, and each unveils the next steps of a bigger plot, but each scenario is a separate story, and knowing previous scenarios should not give a player any unfair advantage.
Adds new dungeon and maze mechanisms, alongside the use of "sub-maps" to represent the vast distances of the Saharan desert and the locations players will visit.
Adventure | Digital App Support | Expansion | Exploration | Fantasy | Solo Mode | Tiles