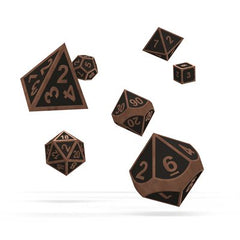 Dice - Metal - Set of 7
Product is currently unavailable. Please email us @ info[at]woodforsheep.ca with Subject: ORDER Dice - Metal - Set of 7 and we will notify you once this item becomes available. Request Deposit required.
RPG set with metal dice in different looks.
Consist of 7 different dice: D6, D4, 2x D10 (steps of 1 and steps of 10), D8, D20 and D12. They come packed in strong boxes so you can easily take them with you and play wherever you want to.