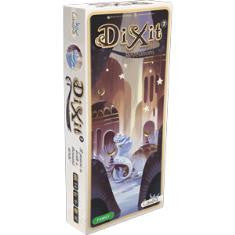 Dixit Revelations
Product is currently unavailable. Please email us @ info[at]woodforsheep.ca with Subject: ORDER Dixit Revelations and we will notify you once this item becomes available. Request Deposit required.
Ages: 8+
Players: 3-6
Playing Time: 30 minutes
Designer: Jean-Louis Roubira
Publisher: Asmodee
Requires: Dixit or Dixit Journey
Go beyond what you see at first glance and discover what lies hidden between — or hidden by — the lines.
This expansion looks utterly unlike any Dixit expansion that has preceded it. Mysterious and enchanting images are heavily influenced by early twentieth century design, from the Art Deco movement to Surrealism, even while they convey stories and ideas that may be millennia old. Find echoes of Picasso, Magritte, Matisse, Escher, Greek myth, Indian religion, pop music, internet memes, and much, much more... In these stylized pieces, reminiscent of New York City's architecture and glass Tiffany lamps, you'll find many allusions to ancient myths and folk tales.