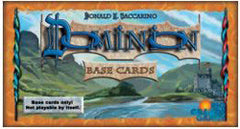 Dominion Base Cards
Product is currently unavailable. Please email us @ info[at]woodforsheep.ca with Subject: ORDER Dominion Base Cards and we will notify you once this item becomes available. Request Deposit required.
Ages: 10+
Players: 2-5
Playing Time: 30 minutes
Designer: Donald X. Vaccarino
Publisher: Rio Grande Games
This is a set of 250 cards: all the basic Victory, Treasure, and Curse cards from the Dominion games and its expansions. It does not include any Victory or Treasure cards that are Kingdom cards.
All cards bear new graphics and are compatible with Dominion and all its extensions. These cards can be used to replace the basic cards from Dominion or Dominion: Intrigue or they can be used with the expansions that contain no basic cards. The set also includes a new Trash card, also with new graphics.
This is not a complete game.
Deck Construction | Dominion | Replacement Accessory | Rio Grande Games