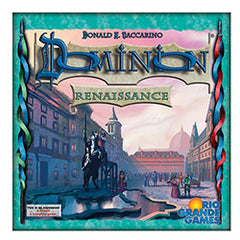 Dominion Renaissance
Product is currently unavailable. Please email us @ info[at]woodforsheep.ca with Subject: ORDER Dominion Renaissance and we will notify you once this item becomes available. Request Deposit required.
Ages: 8+
Players: 2-4
Playing Time: 30 minutes
Designer: Donald X. Vaccarino
Publisher: Rio Grande Games
Requires: Dominion OR Dominion Intrigue
It's a momentous time. Art has been revolutionized by the invention of "perspective," and also of "funding." A picture used to be worth a dozen or so words; these new ones are more like a hundred. Oil paintings have gotten so realistic that you've hired an artist to do a portrait of you each morning, so you can make sure your hair is good. Busts have gotten better too; no more stopping at the shoulders, they go all the way to the ground. Science and medicine have advanced; there's no more superstition, now they know the perfect number of leeches to apply for each ailment. You have a clock accurate to within an hour, and a calendar accurate to within a week. Your physician heals himself, and your barber cuts his own hair. This is truly a golden age.