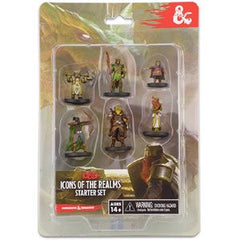 D&D Icons of the Realms Starter Set
Product is currently unavailable. Please email us @ info[at]woodforsheep.ca with Subject: ORDER D&D Icons of the Realms Starter Set and we will notify you once this item becomes available. Request Deposit required.
Go on a grand adventure through the Forgotten Realms with this new set of starter miniatures for play with the legendary fantasy roleplaying game Dungeons & Dragons.
This Icons of the Realms collection includes six unique miniatures ready to use with your Dungeons & Dragons Starter Set.
Bring these wonderfully detailed miniatures to your next Dungeons & Dragons game and enjoy the envy of all your fellow gamers!
Featuring 5 returning characters, and 1 new Hero for your game:
Gold Dwarf Cleric
Human Ranger
Sun Elf Wizard
Northlands Fighter
Lightfoot Halfling Rogue
Wood Elf Druid
D&D RPG | Fantasy | Miniature | Roleplaying