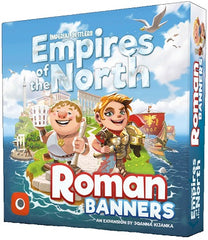 Empires of the North Roman Banners
Product is currently unavailable. Please email us @ info[at]woodforsheep.ca with Subject: ORDER Empires of the North Roman Banners and we will notify you once this item becomes available. Request Deposit required.
Ages: 10+
Players: 1-4
Playing Time: 45-90 minutes
Designer: Joanna Kijanka
Publisher: Portal
Requires: Empires of the North
Constantly looking for new realms to conquer, the Roman Empire sails the blue seas and oceans! Their troops discover lands and expand their influence. It didn't take them long to get involved in conflicts with other kingdoms!
Introduces two new Clans to the game, as well as 6 new Islands. Roman Clans offer new strategies and solutions, such as rebuilding small locations to change them into powerful Roman buildings.
Draft | Economic | Empire Building | Expansion | Resource Management | Role/Phase Selection | Set Collection | Variable Player Abilities