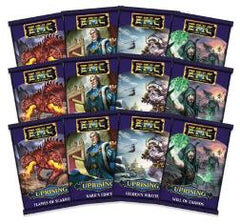 Epic Uprising Booster Pack Bundle (4) {C}
Ages: 12+
Players: 2-4
Playing Time: 20 minutes
Designer: Darwin Kastle, Rob Dougherty
Publisher: White Wizard Games
The Tyrants have had their time. Now is the time to throw off the shackles of their oppression. Now is the time for an Epic Uprising.
A four pack, 48 card expansion for Epic Card Game. Each pack features powerful new Champions and Events that will add even more excitement to Epic sealed, draft, and constructed play.
Each purchase of this is for 4 packs; one of each.