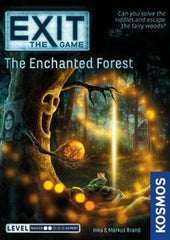 Exit Enchanted Forest
Product is currently unavailable. Please email us @ info[at]woodforsheep.ca with Subject: ORDER Exit Enchanted Forest and we will notify you once this item becomes available. Request Deposit required.
Ages: 12+
Players: 1-4
Playing Time: 45-90 minutes
Designer: Inka Brand, Markus Brand
Publisher: Thames & Kosmos
A relaxing walk in the woods takes a very different turn when you suddenly encounter strange fairytale creatures and even stranger puzzles. Will you ever find your way out?!