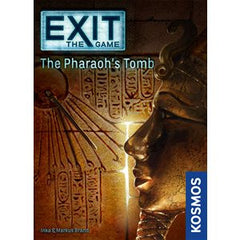 Exit Pharaoh's Tomb
Product is currently unavailable. Please email us @ info[at]woodforsheep.ca with Subject: ORDER Exit Pharaoh's Tomb and we will notify you once this item becomes available. Request Deposit required.
Ages: 12+
Players: 1-6
Playing Time: 45-90 minutes
Designer: Inka Brand, Markus Brand
Publisher: Thames & Kosmos
On an Egyptian holiday, players are visiting the highlight of the entire journey: the stone pyramids! But after rising through the narrow, labyrinthine corridors, they discover that they've lost the rest of the group. After wandering for hours, they end up in a mysterious grave chamber — and suddenly the stone door closes behind them. The players are caught. On the floor is a sand-covered notebook and an ancient spinning code dial. Will the players escape in time or be forever buried under stone?
Players must use their team spirit, creativity, and powers of deduction to crack codes, solve puzzles, collect objects, and earn their freedom bit by bit.
Cooperative | Deduction | Escape Room Variant | Kennerspiel des Jahres Winner | Survival