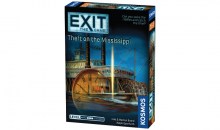 Exit Theft on the Mississippi
Product is currently unavailable. Please email us @ info[at]woodforsheep.ca with Subject: ORDER Exit Theft on the Mississippi and we will notify you once this item becomes available. Request Deposit required.
Ages: 12+
Players: 1-4
Playing Time: 60-120 minutes
Designer: Inka Brand, Markus Brand,
Ralph Querfurth
Publisher: Thames & Kosmos
Can you solve the robbery on the Mississippi River?
You're a team of investigators, traveling the Mississippi on a paddle-wheel steamboat in 1872. Last night there was a robbery — a successful businessman was carrying documents of inestimable value, and now they have disappeared! The captain has asked for your help in finding out who did it, but time is running out. Can you find the culprit before the riverboat docks in New Orleans, and the thief escapes into the night?
Work together and solve all the puzzles together as fast as you can!