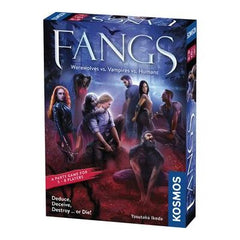 Fangs
Product is currently unavailable. Please email us @ info[at]woodforsheep.ca with Subject: ORDER Fangs and we will notify you once this item becomes available. Request Deposit required.
Ages: 10+
Players: 5-8
Playing Time: 30 minutes
Designer: Yasutaka Ikeda
Publisher: Thames & Kosmos
Werewolves vs. Vampires vs. Humans
What team is the player sitting next to me on? Are they a blood-sucking vampire? A ferocious werewolf? Or just a hapless chump trying not to get bitten? And what team do they think I'm on?!
This thrilling social deduction party game challenges players to determine which one of these three secret roles each other player has assumed. Since you don't know who you can trust when the game begins, you must attempt to conceal your role from the other players while working to identify your allies and your enemies. Werewolves are out to expel vampires from the game; vampires aim to expel werewolves; and the humans are just trying to avoid detection and survive until the end of the game. Throw in some secret weapons and ulterior motives, and this party game for 5 to 8 players makes for a howling good time.
Deduction | Mafia Variant | Party | Survival | Team Play