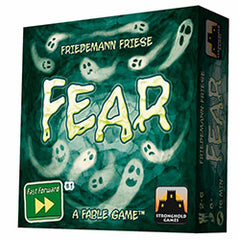 Fast Forward Fear {C}
Ages: 8+
Players: 2-5
Playing Time: 15 minutes
Designer: Friedemann Friese
Publisher: Stronghold Games
Each game in this series contains a pre-sorted deck of cards only and no rulebook. You discover all the rules and the cards as you play. Players begin a game without reading rules in advance, but rather gather a group together and just begin playing. Each game in the series is thematically and mechanically unique from one another, so each game is a completely new experience for your gaming group. Also, each game can be played between 10 and 15 times before your group has explored the entire system. The games can then be reset and played again by the same or different groups.
Do you fear ghosts?
Or are you confronting the danger and scaring your opponents?
A fast-paced and straightforward hand management game of tension filled ghost chasing.