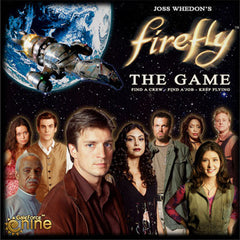 Firefly
Product is currently unavailable. Please email us @ info[at]woodforsheep.ca with Subject: ORDER Firefly and we will notify you once this item becomes available. Request Deposit required.
Ages: 13+
Players: 3-4
Playing Time: 120 minutes
Designer: Aaron Dill, John Kovaleski, Sean Sweigart
Publisher: Gale Force 9
Captain your own Firefly-class transport ship, traveling the 'Verse with a handpicked crew of fighters, mechanics and other travelers. Desperate for work, compelled to take on any job: so long as it pays. Double-dealing employers, heavy handed Alliance patrols and marauding Reavers are all in a day's work for a ship's captain at the edge of the 'Verse.
Logistics | Resource Management | Sci-fi | Space | Spin-off