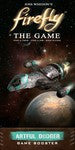 Firefly Artful Dodger
Product is currently unavailable. Please email us @ info[at]woodforsheep.ca with Subject: ORDER Firefly Artful Dodger and we will notify you once this item becomes available. Request Deposit required.
Ages: 13+
Players: 3-5
Playing Time: 120 minutes
Designer: Aaron Dill, John Kovaleski, Sean Sweigart
Publisher: Gale Force 9
Requires: Firefly
Artful Dodger – a nimble modded Series III Firefly that starts with a faster drive core and has more space for crew – is a fifth playable ship, allowing for up to five players to compete.
To use the Artful Dodger, during set-up pull a "Modified Radion Accelerator Mark II" drive core from the Osiris Supply Deck to serve as the Artful Dodger's starting drive core. With its faster core and higher crew capacity, captaining the Dodger means working fewer delivery jobs and focusing on riskier, more profitable crime jobs.
Expansion | Logistics | Resource Management | Sci-fi | Space | Spin-off