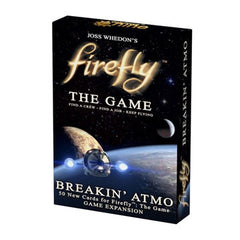 Firefly Breakin Atmo
previously $11.99
Product is currently unavailable. Please email us @ info[at]woodforsheep.ca with Subject: ORDER Firefly Breakin Atmo and we will notify you once this item becomes available. Request Deposit required.
Ages: 13+
Players: 3-4
Playing Time: 120 minutes
Designer: Aaron Dill, John Kovaleski, Sean Sweigart
Publisher: Gale Force 9
Requires: Firefly
This expansion pack introduces fifty new cards to the game: 25 job cards and 25 supply cards. New jobs present new challenges for captains and their crews with payouts based on their skill levels. The additional supply cards offer new resourceful crew members for hire and specialized gear to help you pull off the big scores.
Expansion | Logistics | Resource Management | Sci-fi | Space | Spin-off