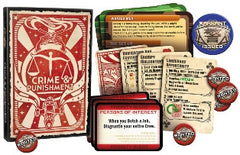 Firefly Crime & Punishment
Product is currently unavailable. Please email us @ info[at]woodforsheep.ca with Subject: ORDER Firefly Crime & Punishment and we will notify you once this item becomes available. Request Deposit required.
Ages: 13+
Players: 2-5
Playing Time: 120 minutes
Designer: Aaron Dill, John Kovaleski, Sean Sweigart
Publisher: Gale Force 9
Requires: Firefly
Crime Pays! Gettin' the job done just got more interesting. This expansion adds a whole heap of new troubles to the `Verse. Adds 40 new cards to the Misbehave Deck, presenting more hassles, hardships, and rare opportunities for those crews that might indulge in a bit of criminal behavior now and then. Plus, new Alliance Priority Alerts put the screws to those just trying to make an honest (or dishonest) credit, while new Story Cards cater to captains who are willing to do anything to get by - the greater the risk, the greater the reward!
Expansion | Logistics | Resource Management | Sci-fi | Space | Spin-off